Latest activity

Diferencias de ingreso y migración interna en Colombia
By: Hernán Darío Enríquez (Universidad Sergio Arboleda)
Posted: 23 July 2014
El continuo flujo de migrantes a la ciudad de Bogotá – Colombia ha marcado el crecimiento de la ciudad en su historia reciente. Motivados por mejores oportunidades de trabajo y educación, personas de otros lugares del país arriban continuamente con el objetivo de obtener mejores condiciones de vida en un centro urbano que supera los siete millones de habitantes.
---

New entries on 22 July 2014
---

The gender wage gap in Colombia and the role of education and other job characteristics
By: Luz Karime Abadía Alvarado (Pontificia Universidad Javeriana - Bogotá)and Sara de la Rica (University of the Basque Country UPV/EHU)
Posted: 21 July, 2014
In a recent paper we relate changes in the observed gender wage gap between 1994 and 2010 in Colombia, with observed changes in education, type of employment and type of contract. This may help predict future trends in the gender wage gap, and therefore may help to design public policies aimed at decreasing the wage gap between men and women.
---

Call for papers
Workshop on Financial Crisis - Banco Central del Uruguay (BCU) and Research Institute for Development, Growth and Economics (RIDGE)
Call for country contributions: "Latin American Competition Forum" - OECD-IDB Latin American Competition Forum
Conference on Gender and Agency in Latin America and the Caribbean - World Bank and the Research Network on Inequality and Poverty (NIP-LACEA)
5º Encuentro Latinoamericano de Economía de la Energía - Asociación Latinoamericana de Economía de la Energía
I International Seminar of Economics and Finances "An approximation to the limits of Economic Growth" - Universidad de la Salle, Colombia
Eighth annual meeting hosted by the Inter-American Development Bank - Impact Evaluation Network
---

Sobre la educación escolar: Evo Morales no quiso (o ¿no pudo?) estudiar con James Heckman
By: Jose P Mauricio Vargas (FMI)
Posted: July 17, 2014
¿Seguimos apoyando, En Latinoamérica y en especial en Bolivia, argumentos que justifican el trabajo infantil como: "si no dejas que el niño haga su trabajo, él no podrá llevar pan a su casa"; "si no trabaja en este supermercado entonces trabajará en otro lado, al menos acá está más seguro"; "el niño aprenderá el valor de las cosas mediante el trabajo"?
---

16 July 2014 - BOOK OF THE WEEK
---

Reading skills in the labor market
By: Valentina Riveri (Universidad de Chile), Esteban Puentes (Centro de Microdatos and Universidad de Chile) and Dante Contreras (Universidad de Chile)
Posted: 15 July 2014
Definitive consensus on how to measure human capital does not exist. In general, indirect indicators are used, such as school attainment or years of schooling (Barro 2001); however these measurements do not consider quality and only capture certain aspects of human capital.
---

New entries on 14 July 2014
---

The effects of the "moratorium" pension reform in Argentina on elderly women - Part 1
By: Inés Berniell (CEMFI), Dolores de la Mata (Universidad del Rosario) and Matilde P. Machado (Universidad Carlos III de Madrid y CEPR)
Posted: 11 July 2014
Pension coverage for women in Argentina was as low as 55% in 2004 due to low labor market participation and high informality. How have the recent pension reforms affected income for elder women and consequently for households in the last few years?
---

New entries on 09 July 2014
---

8 July 2014 - BOOK OF THE WEEK
---

Cyclicality of Fiscal Policy in Latin America over the last decades
By: Bruno Martorano (UNICEF Innocenti Research Centre)
Posted: 7 July 2014
Contrary to the prior two decades, fiscal policy in Latin America was not procyclical during the years 1990-2008, while it was countercyclical during the crisis years (2008-2011).
---

New entries on 07 July 2014
---

Information technologies can only partially ameliorate the low take-up of social benefits among forcibly displaced households in Colombia
By: Mariana Blanco y Juan F. Vargaa (Universidad del Rosario)
Posted: 27 june 2014
One major puzzle in developing economics is that non-take-up rates of social benefits are usually very large. Examples of this disturbing fact range from farmers who resist using fertilizers that are available at very low prices, to parents who opt out from giving their children free de-worming pills that will substantially improve their health. There are dozens of similar examples both in developing and developed countries.
---

Los costos de la provisión de salud: un reto importante de política pública
By:Daniel Gómez Gaviria (Fedesarrollo)
Posted: 23 June 2014
Los costos de la provisión de salud han aumentado en todo el mundo representando gastos onerosos para sistemas de salud públicos, y retos importantes de política pública.
---

Las heridas cierran, pero las cicatrices quedan: El duradero impacto en salud de las crisis económicas
By: Federico Gutierrez (Vanderbilt University)
Posted: 19 June 2014
La historia de América Latina se encuentra repleta de crisis económicas. Éstas han diferido en duración, intensidad y origen, pero todas ellas, por definición, han llegado a su fin una vez que el ciclo expansivo se ha reanudado. Sin embargo, las consecuencias sociales y económicas de las crisis pueden extenderse por décadas luego de haber finalizado.
---

New entries on 18 June 2014
---

18 June 2014 - BOOK OF THE WEEK
---

En educación, los incentivos no pueden lograrlo todo
By: Alejandro J. Ganimian (Harvard Kennedy School of Government)
Posted: June 17, 2014
Quienes trabajamos en la economía de la educación, solemos notar que la estructura de incentivos en los sistemas educativos de América Latina, no es conducente a maximizar el desempeño estudiantil. Sin embargo, en una revisión reciente de 81 evaluaciones de impacto rigurosas en 27 países de ingreso medio y bajo hallamos que si bien los incentivos siempre funcionan, no siempre lo hacen en la forma que esperamos.
---
Call for papers 3rd Water Research Conference - International Society for Ecological Economics click here
Call for papers 5º Encuentro de la Asociación Latinoamericana de Economía de la Energía click here
---

Fiscal Policy in Latin America: Adding Less Fuel to the Fire
By: Alexander Klemm (International Monetary Fund)
Posted: 13 June 2014
For many decades, fiscal policy in Latin America has amplified economic fluctuations—governments tightened the purse strings during recessions and increased spending during booms. But in recent years, there are some encouraging signs that Latin American countries have started to reverse this trend, with fiscal responses playing a more stabilizing role. In fact, some countries were able to use fiscal stimulus during the global financial crisis.
---

Theft Reporting in Mexico City
By: Victor G. Carreón-Rodríguez (CIDE) and Jorge L. G. García-Menéndez (University of Chicago)
Posted: June 11, 2014
Theft represents 72.1% of criminal offenses in Mexico. Even when the Mexican government spends more in crime-related policies than in higher education, theft reporting rates seem to be low and stable over time. It is difficult for government to reduce crime if households do not report it.
---

New entries on 10 June 2014
---
Call for papers Fith Public Investors Conference - Bank for International Settlements & World Bank click here
Becas Curso Teórico-Práctico de Evaluación de Impacto de Políticas Públicas - CEDLAS - IDRC-Canadá click here
Essay Contest: "How to Build a Better Future for Latin America" - International Monetary Fund click here
---

Diferencias de género en la informalidad
By: Susana Martínez Restrepo (Fedesarrollo)
Posted: June 9, 2014
¿Por qué las mujeres en Colombia tienen mayores niveles de informalidad que los hombres, si tienen mayores niveles educativos que ellos?
---

Riesgos de la desaceleración de China para América Latina
By: Comité Latino Americano de Asuntos Financieros
Posted: 6 June 2014
El Comité analiza las implicaciones de una desaceleración importante en el crecimiento económico de China, un factor que podría empeorar el contexto externo de la región.
---

New entries on 5 June 2014
---

Economia - Spring 2014
By: Roberto Rigobón (MIT), Raquel Bernal (Universidad de los Andes), Ugo Panizza (UNCTAD) and Marcela Eslava (Universidad de los Andes)
Posted: 4 June 2014
This blog post draws from the Editors' summary of this issue of Economia. Economia, published twice a year, is the journal of LACEA
---

New entries on 4 June 2014
Papers from the 2014 Political Economy Group (PEG) meeting

---

New entries on 3 June 2014
---

2 June 2014 - BOOK OF THE WEEK
LACEA Membership
For Membership information and other activities of LACEA click here.

How do I...
Twitter
BOOK OF THE WEEK
The Second Machine Age: Work, Progress and Prosperity in a Time on Brilliant Technologies


Review by: Eduardo Lora here
Go to Book of the week here
What's going on
Taller regional sobre políticas públicas para PYMES
Sistema Económico Latinoamericano y del Caribe (SELA)

---
Propuestas de políticas públicas para el impulso de la innovación ciudadana
Este formulario tiene por objetivo recopilar propuestas de políticas públicas para el impulso de la innovación ciudadana, a ser trabajadas en el II Taller de Innovación Ciudadana en São Paulo (30 de julio) y que luego van a formar parte del documento colaborativo que entregaremos a las Jefas y Jefes de Estado y de Gobierno en la próxima Cumbre Iberoamericana de Veracruz en diciembre de 2014.
---
4th LATAM Power Generation Summit

---
PPP Américas 2015
14 y 15 de abril, Punta del Este, Uruguay
Conferencia que difundirá las lecciones aprendidas y las tendencias innovadoras para el éxito de las asociaciones público-privadas

---
2015 Reunión Anual del BID-CII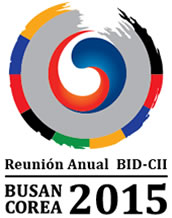 La Reunión Anual de 2015 se llevará a cabo en Busan, República de Corea, del 26 al 29 de marzo. En el marco de la reunión se estarán patrocinando una serie de seminarios sobre temas de interés para los participantes.

Tags Cloud